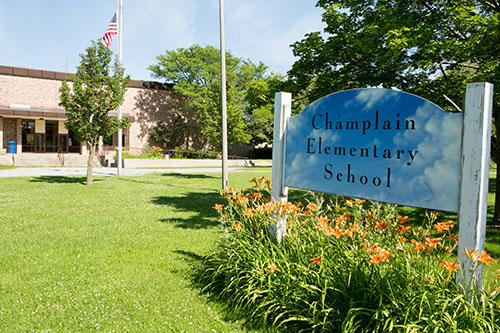 By Dr. Dorinne Dorfman, Principal
What's happening at Champlain?
Workers on the roof, big trucks in the driveway, and even the Burlington City Fire Department made an appearance (everything was fine). The second floor makeover includes big new windows for every classroom., matching those installed on the first floor in 2016. The first floor renovation will create several new learning spaces for educational support services, in which nearly half of Champlain students participate. Tiny spaces accommodating only a few will be replaced with new classrooms sized for up to ten children. Special educators, interventionists, and support staff can increase multiple-intelligence and other hand-on activities to increase student learning.
Anyone new on board?
Yes, five new teachers will join Champlain's faculty this fall. They include two longtime Burlington teachers new to Champlain, Ms. Alice Patalano (first grade) and Mr. Gavin Wallace (second grade). Ms. Taylor (Silvestro) Warner will teach first grade. Former B'Kids after-school program director Ms. Jessica Villani will teach second grade while Ms. Ashley Francke is on maternity leave. Ms. Lisa Goetz will teach fourth grade. We warmly welcome our new teachers, all of whom bring a breadth of experience and a passion for student learning.

What can we expect next fall?

The Burlington School District has begun implementation of restorative practices K-12. This summer approximately thirty elementary teachers and principals attended training with the South Burlington Community Justice Center. As an alternative to traditional school discipline, restorative practices focus on sharing, listening, solving problems, and repairing relationships. Champlain will expand peer mediation to include more students and expand their responsibilities to help solve conflict in class, at lunch, and on the playground. Restorative practices build upon the Responsive Classroom, which features class meetings and community building, and Positive Behavior Interventions and Supports, which includes directly teaching students appropriate behavior and celebrates kindness, collaboration, and service.