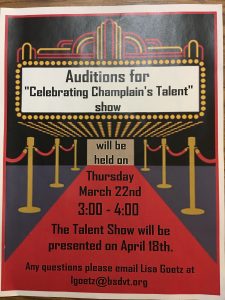 Champlain Elementary School will be having a talent show! If you would like to be a part of "Celebrating Champlain's Talent," please pick up a permission slip from the school office. Auditions will be held on Thursday, March 22nd from 3-4 PM in Lisa Goetz's classroom.
"Celebrating Champlain's Talent" is a show that is open to all members of the Champlain community including students, parents, teachers, and community members.  Individual and group acts are welcome.
Need talent ideas? Perform a comedy act, a sports demonstration, a song or a dance. Play a musical instrument, do gymnastics, mime, hula hoop or yoyo. Jump rope, juggle, or show off an animal trick.  Consider doing a magic trick or a poetry reading. Performances in language other than English are greatly encouraged. Anything goes! For more information, please email Lisa Goetz…lgoetz@bsdvt.org.